I'm really excited to tell you about this theme.  It's called Inspire Hope by BlackberryThemePark.  With so many themes out there, this one actually has meaning behind it.  The inspiration behind this theme is awareness for various causes like domestic violence and cancer.  And having personal experience with some of the causes, this theme is a big deal to me.  Jake from BlackBerryThemePark has truly created a theme that will give you time to reflect and hope every time you look at your home screen.   Jake also has a vested interest in the causes and I thank him for coming up with this idea and making it into a great theme.   Not only does this theme have cause for hope, but it's a great one as well.  Many features including tinted banners, hidden dock, hidden Awareness Ribbon widget which also has 2 ocd slots, and an option for a clean very wall paper friendly home screen.  Please read more and add some inspiration and hope to your Blackberry.
The default home screen has a lot to offer.  In the center top of the screen is the ribbon widget with 2 ocd slots.  Place any app in position 1 and 2, and you have easy access to them.   The middle icon is the Awareness Ribbon.  This screen shot shows the white, which stands for violence against women and bone cancer.  I'll get to how to change the ribbon color a little later.   There is a 6 icon dock along the bottom which can be hidden by using alt q and show with alt  a.  Jake has also included a 2 icon text dock along the bottom just below the icon dock, again with any 2 of your favorite apps in position 3 and 4 from your application screen.  Notifiers, clock (hot spot), custom signal meter (hot spot for manage connections) and date are along the top banner.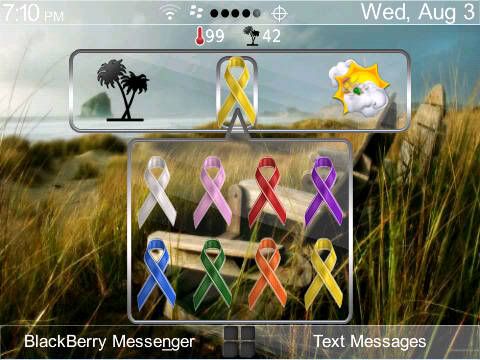 There are 8 different color ribbons to choose from, each representing it's own cause.  Simply navigate to the icon on the widget and click and an option panel will appear allowing you to choose which ever cause you would like to show and get hope from.  Hit esc to go back.  Here is the list of the meanings:
White : Violence against women, bone cancer
Pink  :  Breast Cancer
Red : Aids, HIV,  Heart Disease, Substance Abuse
Purple:  Domestic Violence, Pancreatic Cancer, Testicular Cancer, Thyroid Cancer, Alzheimer's,
Blue:  Child Abuse, Colon Cancer
Green:  Childhood Depression, Kidney Cancer, Cerebral Palsy, Environmental Protection
Orange: Leukemia, Animal Cruelty, MS, ADHD
Yellow:  Soldier Support, Bone Cancer, Suicide Prevention, HOPE, Adoptive Parents, Amber Alert
As  you can see, these colors cover a wide range of causes.  There are many here that I am personally connected to, and love the fact that I can select which ever cause and proudly display it on my phone and have a constant reminder to support the various issues.  Very impressive and very inspirational.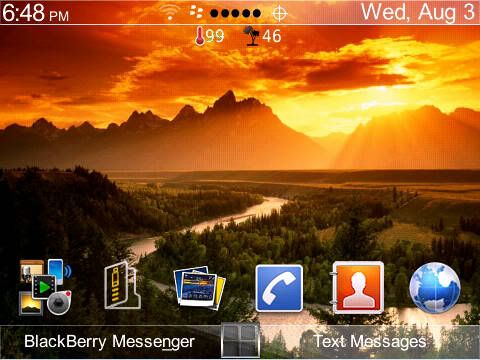 Maybe you don't want to display the ribbons.  That's fine.  Jake has thought of that as well.  Hit alt +/- and the widget will hide.  Please note that there is not weather slot option if you hide the widget, so if you do want your weather to show, you will need to use the BerryWeather home screen wall paper option or another app like Quick Weather (both sold separately).
This is not just a theme for hope.  It actually is very functional and has plenty of features to make this theme your own and how you like it.  You can even choose to hide the bottom text dock if you don't want that to show either.   Navigate to the square between to 2 text icons in the middle and click.  The dock will disappear leaving just the small square  that you will need to click to show the text dock again.   A very cool feature to have.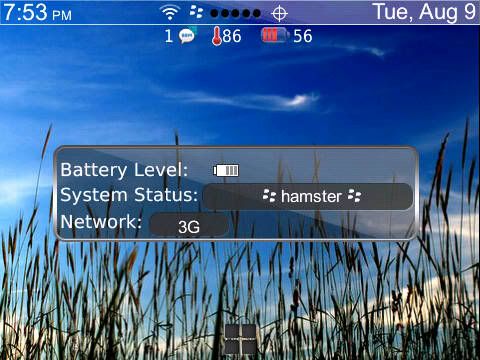 The features just don't end with this one.   Also available is a battery dock that is launched with $ and hidden with escape.  It shows network, battery level and wifi name.  Now how cool is that?  How many themes offer you all these options?    This theme is a labor of love and means a lot to Jake as you can tell.  He has made a theme that not only provides inspiration and hope, but one that gives you choices.  And who doesn't like choices?
Want a crystal clear home screen to show off your entire wall paper?  No problem.  You can do that also!   Hide all the docks and Ribbon widget, and viola!  Clean home screen with only the important information showing at the top.  The banner here is tinted, and works great with light wall papers.  To activate the tint, hit ?/!.    I'm really liking this theme for all that it has to offer.  All the options are easy to access and if you choose to have everything showing, you can have access to 12 apps/functions on your home screen and never have to exit out.  Not to mention that it provides hope.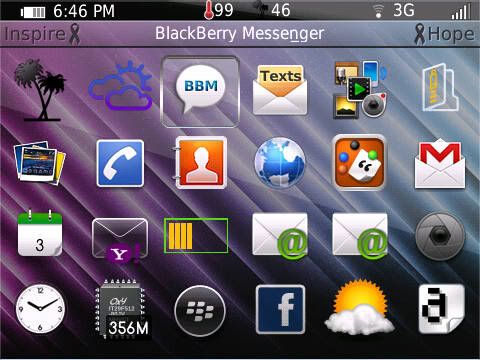 Even the application screen is an inspiration and reflects hope.  On the top you have the words "Inspire" and "Hope" with ribbons along side them to remind you of what this theme is really all about.  A gorgeous purple and blue abstract background (my fave colors!) with clear glass focus icons (the same used on the home screen) round out the application screen with custom icons.  The menus are semi transparent with blue highlights.   I also wanted to mention something else that I think is a great detail.  On your email, text, and BBM message  lists, the icon will reflect the actual icon used on the application screen.  Love it!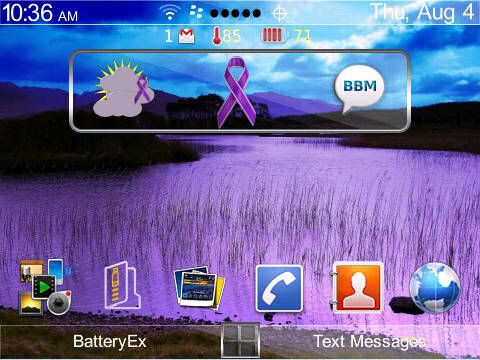 Because I was so inspired with this theme and the idea behind it, I decided to make a BerryWeather set to go with it.  So which ever ribbon you choose to display, there is a BW set to match!   I'm showing the purple one on this screen shot.  Here are the links for the sets:
Inspire Hope Blue

Inspire Hope Green
Inspire Hope Orange
Inspire Hope Pink
Inspire Hope Purple
Inspire Hope Red
Inspire Hope White
Inspire Hope Yellow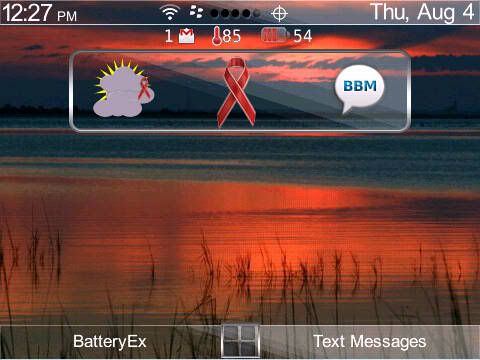 Whatever way you choose to set up this theme, you will be happy with the added bonus of feeling good about displaying the cause of your choice if you choose to.   What's great about this theme is that you don't have to, and simply use it as a functional, classy theme with lots of  other options.  Like his themes before this, Jake likes to provide that to his customers – choice and options.  Because everyone has different tastes and likes.   And he has succeeded.  Before this theme, I had been rocking Cheshire, another one of his great themes.  For more from Jake, visit his web site at BlackberryThemePark   and check out his themes.  They are all functional, easy to use and have  great designs.    A very impressive collection.   Inspire Hope runs smooth as well as looking great on my phone.  I'm really digging the glass like look of the theme, and of course the Ribbons.   You can get a little of your own inspiration at the BBE Store for $5.99 (well worth it, my friends).  Available for most devices on OS5 and OS6.    What are you waiting for?  Get Inspire Hope.   After all, we all need is  a little HOPE.